American Mayhem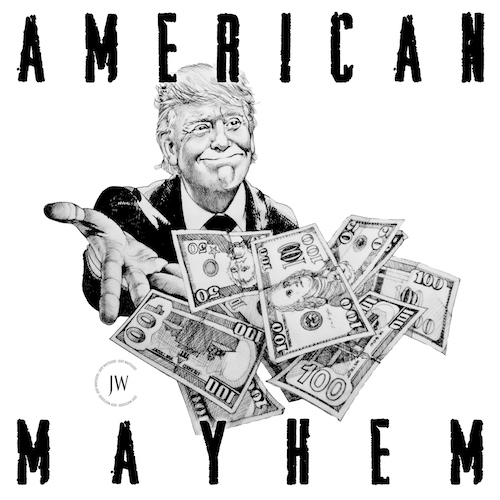 2ipEnswbF8K0Rev2Ei9j3L
[Verse 1]
Everywhere as far as the eye can see
Lays the duality of what we can be
Divided under one flag we're barely free
Police other countries but not our own streets
Poverty ignored for the fame and the rich
Crying casually of how life's such a bitch
Pursuing passions is never a cinch
Forget formalities this fight feeds the itch
[Chorus]
Because aggression flows from American Mayhem
Because oppression rolls on American Mayhem
Because obsession grows in American Mayhem
American Mayhem
You ain't one of them
[Verse 2]
Many work so hard to build up a stash
Dreaming constantly of a life with more flash
Billionaires kill life to gather more cash
Keeping charities busy cleaning up trash
Mother earth holds on to the increased demand
Despite disparity gettin' way out of hand
Everything she needs is deep in quick sand
Pump up reality to help fix her land
[Chorus]
Because aggression flows from American Mayhem
Because oppression rolls on American Mayhem
Because obsession grows in American Mayhem
American Mayhem
You ain't one of them
[Bridge]
Ask not (ask not) what I (what I) can do (can do) for me (for me)
But what (but what) can I (can I) do for (do for) for you (for you)
[Chorus]
Because aggression flows from American Mayhem
Because oppression rolls on American Mayhem
Because obsession grows in American Mayhem
American Mayhem
You ain't one of them
Because aggression flows from American Mayhem
Because oppression rolls on American Mayhem
Because obsession grows in American Mayhem
American Mayhem
You ain't one of them
Liner Notes:
Writer: Jody Whitesides
Publisher: Too Much Music
Producers: George Leger III & Jody Whitesides
Drum programming: Jody Whitesides
Additional Drum programming: George Leger III
Vocals/Guitars/Bass/Synths: Jody Whitesides
Background Vocals: Phillip Brandon
Mixers: George Leger III & Jody Whitesides
Mastering: George Leger III
Trivia:
Meaning: Having gobs of money tends to allow bad people to do bad things.
Trivia bit #1: Song was originally written as an instrumental track for a Hip Hop documentary.
Trivia bit #2: Very much a covert political song about manipulation thru money.
Trivia bit #3: There is a bizarre vocal distortion effect on the lead vocal.