A few days ago I was made aware of a nice little fact that had escaped my awareness. Back in January I was interviewed by SESAC about things I had going on musically. The writer of the article managed to whittle a two hour interview down to a half page write up inside SESAC's Spring 2012 magazine.

Makes me wish I was the mug on that cover. However, I can understand the desire to go with a well known quantity. Not far off is the day where I'll be that known quantity – minus all the drugs and abuse. Beside the nice writeup that Tommy Lee gets, I didn't know he was a SESAC artist until now, there's a another person inside those pages whom you may recognize. He goes by Jody and you're here on his website.
Initial feedback that I've heard from friends is that the article is really well written and looks great too. One thing I really dig about my P.R.O. SESAC, they are detail oriented and do things with paid attention to that detail.
At this point I know you're wondering to yourself 'how do I get to read and/or see this article about you Jody?'
Good question. The answer lies in clicking right here -> SESAC Spring 2012. [or you may have already clicked on the cover image…]
Take a moment to read it, enjoy it, then make me happy and proud by spreading it around. Click on the share button [below] and pick all your favorite services. You'll feel instantly better when you do it. Right as rain as "they" say. All because you helped a musician inside SESAC's Spring 2012 magazine get a further reach on the web with your good deed.
More coming soon.
— Jody
p.s. – have you signed up on my email list yet?
Read More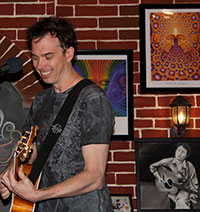 As I'm closing in on the songs that will wind up on the next release, I'm looking into other aspects of things that need to be brought into order. I put out calls to the musicians that I will be hiring to record the other instruments. I'm planning on going as live in the studio as I can for this next excursion into recording. I've talked the drummer. I've talked to the bassist. I've talked to the 2nd guitarist. I'm still putting out feelers for backing vocals. Beyond the studio I've been revamping my business plan into a shiny new PDF file. This is the point where I say: help me find angel investors.
Actually the reality is, I'm looking for investors in general, Angel or otherwise.
Do you know of such people? Would you be willing to link up a musician who has all the pieces of the puzzle to make things happen? I've got the proper connections to make a go of taking my act on the road and being successful with it. The only missing element is the money to make it happen. Being so inclined to make that link, I'm more than happy to sign an NDA. I'm also inclined to have you point them to the following special page: On Records Investor Proposal.
It's not for the faint of heart. So please only do so if you're serious.
For you, the helpful fan and music buff who wants to see a musician make it to the top without a label and with your help, I'll make it worth your while. Details only given to those who are absolutely serious about this. It's not a joke. Please contact me and lets get the ball rolling. Be a part of the magic and watch what happens!
For everyone else interested helping out. There is going to be a kickstarter campaign coming for helping to raise the money for the recording part of it. At this point, I'm looking at raising nearly $15,000 to cover recording costs, in about 4 chunks. Videos and details will be coming very soon.
So not only am I asking you to help me find angel investors, I'm also asking for you to be one as well.
Read More