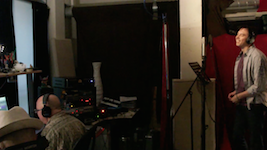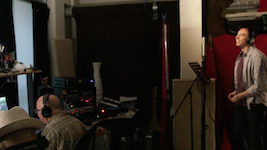 It's not often where you're in a studio talking about a drum fill. At least not often where you're proclaiming you love it. This is precisely what happened during a moment in the recording process of Till We Meet Again, a song written by myself and the awesome Jesse Stern. We're in the studio doing vocals with George Leger III when George blurts out something entirely unusual for an engineer / co-producer.
Talk about getting caught off guard, especially when drumming is like ESL. I remember wanting to be a drummer when I first wanted to learn an instrument. However that got nixed by my mom due to saying it would be too noisy. Instead I got a guitar and an amp. How much noise did that make? A whole lot more.
Imagine my surprise when a drum fill part I created elicits a response like what I get in the video. Of course the most polite response is what I gave, but seriously, in my head I was like – hey! I did that. Maybe I should have been a drummer first. What a different world I'd be in if that had been the case. I might not be the songwriter I turned out to be. Who knows, I could have become an on call studio or touring drummer. Ah, who am I kidding – I love the musician I am, but there are times. Times when I do wish I were a better drummer.
Drum Fill Love
Transcript:
I said I love that drum fill!
Thank you.
Fuckin' love it.
It's a cool drum fill.
It's totally cool.
I done did that.
Totally fuckin' cool.
yeah.
I have to make that a Phil Collins thing somehow.
Get it to sound like it's in a fuckin' glass room or something bizarre.
Oh lord.
Aw, c'mon man.
Have you subscribed to my YouTube Channel yet?
Read More