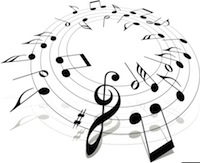 Get out your stick of digital chalk, the proverbial classroom chalkboard and mark yet another tick in the finalized category. This time around the fourth song finalized is "Thump Thump Thump". There is no doubt that this is a veritable smash of a song. Super catchy is a phrase that comes to mind.
Not a lot of tweaks were needed to be made to this one. In fact, there is really only one decision left in terms of the arrangement. It has to do with how long I'll make the intro. I'm debating on cutting it in half. Come to think of it, I might need to do a radio remix version – with a shorter intro, and then leave a longer intro. Who knows. That's a decision to be made once I've hit the mixing stage.
There was a slight delay in getting to this one as I was hired to write a bit of music for a film trailer the other day. Then I got hired to record a special little choir for yet another film trailer – I'm working on that one right now actually as it's due in tomorrow morning.
I'm heading back into the fray with yet another song to be announced shortly. I've been rerecording all the parts and thinking about the instrumentation. I may actually have news up as soon as tomorrow. Until the fifth is posted, the fourth song finalized is "Thump Thump Thump".
— Jody
Read More