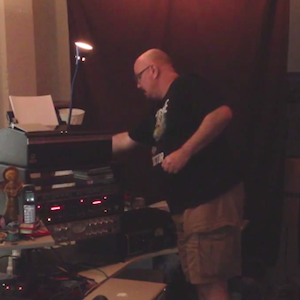 Come in the studio with me as I work with George Leger III at his Utopia Parkway studio to record the final vocals on my upcoming new single "Touch". Get a sneak peek of what it's like in the studio and working with a good friend from Canada who helps create some awesome magic.
Find out who I got one of the guitars used on the song from. Figure out a particular guitar riff I play while waiting for George. Hint, it's from an amazing guitarist out of Texas.
Enjoy the video:
Transcript:
We're in Los Angeles. Taking off in a moment in the car. To get over to the studio. Time to start recording some vocals.
Ok, here's the humor. I've just rolled up to the parking lot of the studio where I'm recording with George Leger, over here, the third. He's got sore feet. So, we're walking in. About to get started with doing some recording and having some fun. Of course I've got to have some tea before I start yodeling out of my mouth. [yodel yodel] But it will be an awesome day of having fun in the studio. Enjoy. See you soon.
Currently we're working through some issues that George has with playing the mix back, before we get into the concept of me actually opening my mouth and making some more vocals. That are not just demo vocals.
Bonus points to YouTubers who can figure out where that riff comes from.
We got the mics all set up and what we're gonna do is we're gonna test out this particular setup to make sure it sounds, fucking brilliant. [fucking brilliant].
Turn back the click on?
Don't you love that? That's George's dyslexia in action, right there.
That's Canadian speak isn't it?
Canadian speak, ha ha ha.
Eh?
Just for those out in YouTube land. This is a Parker Fly guitar.
Yes, very nice guitar. Wish I had one actually.
It was given to me by somebody that is very big in the independent music world. Or at least was at one point in time. He's now kind of retired. His name is Mr. Derek Sivers.
Derek Sivers, thank you very much for your contribution to this song. That we're using with your Parker Fly, that is, well apparently it's now my Parker Fly.
We're doing a little production work at this point. We've decided to nix the pre chorus, which you've already found out. And we've decided to nix some vocals in the chorus there were, uh, filling too many holes. After we do a bit more production work, we're going to ad some ad libbers. Ad libbies. No? We're not, we're not doing any? Oh, cause there's not enough holes. Not enough room. So much for ad libs.
You know what they say about ad libs? Fuck ad libs.
You say you want to try another octave higher. I'm not sure that'll be overkill, but I'm certainly willing to try.
Well then, shall I double the other choruses first?
Ah, no. I'm just going to use this part for all of them.
No, no, no.
Yes, yes, yes.
No, no, no.
Yes, yes, yes.
I don't like cut and paste.
Dude. I don't care. This is not really that important.
It is.
fuckin prima donnas.
I don't feel like a prima donna, but thank you.
You're a fucking leo, what are you talking about.
That doesn't make me a prima donna.
Yes it does.
No, it just makes me king of the jungle. Or my jungle anyway.
It has been an awesome trip. The vocals are done. It's time to do the mix. Back to the studio. So long LA, it's been fun being back. It feels like a slice of home. See ya on the flip side.
Read More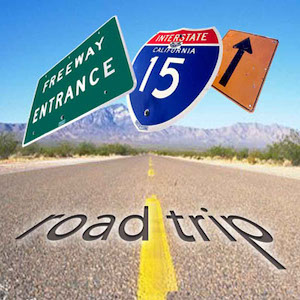 A couple of months ago I forged ahead with getting a slew of new music recorded. Instead of doing it all at once in an album format, I've shifted gears and opted to go single by single. This way I'm able to concentrate on a steady stream of new music, plus do videos for each one.
Join me in this video as I hop in the car and head to Los Angeles through Utah, Arizona, Nevada and finally California.
Getting To LA For Recording Touch
Transcript:
"I am in the process of finishing up a first single called Touch. Today, I am on my way to Los Angeles to work with George Leger my co-producer to finish up that song. So it's road trip time people. See ya in LA.
So I'm winding down one of the major arteries of America, interstate 15, about to pass Nephi Utah. Eighty mile an hour speed limit, gotta love it.
Off goes the trucker. Probably going to the flying J right there. I used to drive my bus there. There's Nephi one direction. Nephi the other direction.
Taste Beaver. Lovely.
One thing that a traveler must have, as they're traveling in their car, Juanita chips. These are the best corn chips in the world. Bar none. In addition to that, you also need to have fresh homemade guacamole. Chips and guacamole in the car and some awesome lemonade. You've got a good road trip way ahead.
And the most odd thing I think I've ever seen in my life, is that the driver in front of me is from California and driving really slow.
I'm about to cross over into Nevada and that point I'm going to make a rest stop. Stay with my father. Play some golf tomorrow and go on to LA the next day. Have a good one!
Zzyzx road right there, exit 239. Right off I-15. Heading in to LA, almost there.
This is your captain Jody Whitesides speaking. We've just made it across the high desert and we are now about to descend into the Los Angeles valley. LA, here we come.
Dropping down into the Los Angeles valley on the long descent down. Big windy road. One of my favorite places. Easy to coast. Just got to watch the downhill speed with the brakes.
Just landed right down in the Los Angeles valley and wholly cow look at the traffic heading out of town. It looks like they're doing a bunch of construction to widen the freeway.
Excited to be back! Ready to record baby! Ready to record.
Two helicopters chasing people down the street next to the party I'm at in Hollywood!"
Read More