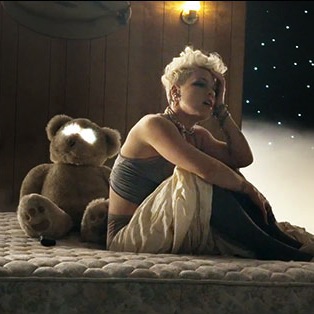 I don't often work on doing cover songs. There's a bit of a foreign concept to me. Mostly due to me not learning a lot of songs when I started playing music. However, once in a while I do find a song where I'll actually learn it and do a version of it. Such is the case with a recent P!nk tune known as Just Give Me A Reason.
I've worked up a version with a new signing friend Kristy Hanson. She's actually tackling P!nk's part, while I'm putting the music and the duet vocal part of Nate Ruess. I'm happy with the way it's turning out. I should be done with the mix tonight.
Here's a little lyric image of the chorus: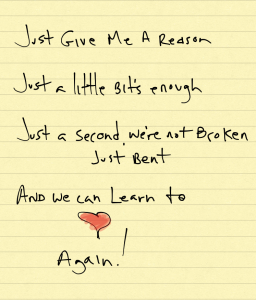 I'll likely be shooting some video for this and making it one of the pledge rewards for those who are interested in being a part of my PledgeMusic campaign coming on July 8th.
In the meantime, enjoy your day. Don't be broken! Thanks P!nk for another great song. At some point I'm gonna want to co-write one with you. That's right, I'm throwing the gauntlet down and saying I want to write a hit duet with you as well.
Read More