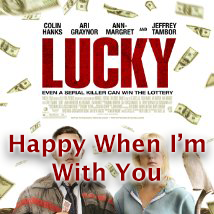 For the next three months: Happy When I'm With You now available for purchase. That's right my movie-loving, audio hunting friend. You can now purchase the song you've been searching for from the movie Lucky starring Colin Hanks.
The lovely, bouncy and foot tappin tune that plays during their honeymoon montage is available right here, right now! Click the little [ok, the kinda wide] button right now.
Get "Happy When I'm With You" Now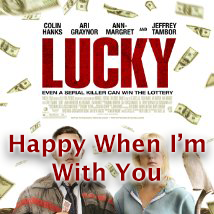 That will wisk you to a special place that will allow you to purchase a higher quality version of the song than you'd find on other digital service sites. Hurry and get it now as the offer is going to expire in 3 months from the date of this posting. Not sure when it will become available again after time runs out. Grab it now!
Enjoy!
— Jody
Read More
It's that time of year when the lovebirds are out and people start sending little Valentines to the ones who have their heart. What's better than knowing you're giving of yourself and letting someone else know how you feel about them? Not much. Except maybe for winning the lottery. In this case I have an offer for you and it's all in the the name of love. Aw.
Right now when you click on this music player below, you get a chance to be serenaded by me for my song "Falling In". In the immortal words of other people:
"That song is so cool. Not only to listen to, but also to watch you play." – W.S.
"You're a victim of your own coolness with 'Falling In'." – M.B.
"The coolest love song ever that doesn't flat out say the word love." – G.L.III
Here's the even better part to this deal. Right now, for a very a limited time, when you "Share" this song via the player. You can get this song for free! That's right, you read that correctly. I will give you the song for free. All you need to do is click on the download button and "Share" it. You'll be taken on a magical internet ride to a special place to get "Falling In" for free. All in the name of love.
Hurry though, because this offer ends when Valentines Day ends.
Share it
Who says a rockstar doesn't love you?
Enjoy!
– Jody
Read More