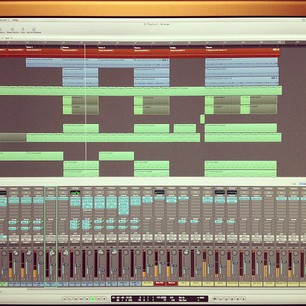 Getting the new year off to a productive start. Day one had me making some re-records of vocals from songs already finalized. But yesterday found me getting yet another song's vocals re-recorded as well. After that recording my ninth song finalized is "Touch".
I got some additional vocals layered in on it. More for the addition of a couple of female vocalists to do some backgrounds to add spice. Once I hit that, I ended up scrapping the original bridge lyrics. In their place is a large flow of words that require bringing in a rapper to spit it out. The bridge is now way more over the top, blunt, rhythmic, and slammin. Got me saying to myself – Fuck Yeah!
No doubt this is going to hit the charts when it's released as a single. I'm confident of that.
Another thing that I'm confident on it is, I'll have to mix a radio-friendly version or bleep some of the bridge vocals. Not the first time I've had a song that would require bleeping, but it is the first time on a hit calibre one. Let's see if I'm right this time.
I'll be back at it later today getting the next track pre-flight ready for hitting the studio. New fire in the sails for this new year has me feeling gung-ho, ready let's go! With that, I've got my ninth song finalized and it's called "Touch".
Read More