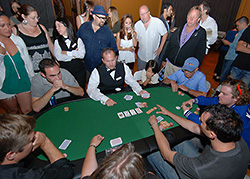 Happiness is getting together for a good cause. It's even better when you're doing it with a game you enjoy. It's even better when it becomes a networking event where you can meet additional people beyond those who you know. Especially when you already know quite a few and it's in your business. Such is the case of the Recording Industry Poker Tournament. It was a charity event that I partook in.
The outcome?
Well, I won!
Click Here to read the story.
It was a heck of a lot of fun. I'm happy about the outcome and I look forward to attending again next time.
Read More