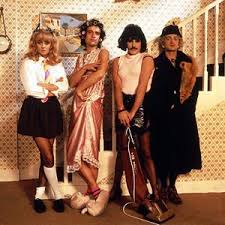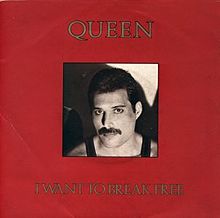 A few years ago I was invited to dinner by one of my best friends Jeff Scott Soto. He prefaced it by saying, we're going to dinner with Roger Taylor from Queen, don't bring any music, don't say you're a musician, don't ask about Queen. To which I asked Jeff when had I ever done something like that to anyone I've ever met through him [never was the answer]. I got to Koi near the Beverly Center in Los Angeles a few minutes late. They had already had some drinks and the moment I arrived we got seated.
First thing that comes out of Roger's mouth as we sit is: "So what do you do?" I turn and look at Jeff thinking – what the hell do I say since he's put it out there that I can't say I'm a musician. I pause for a second and point at Jeff saying "I do what he does." Roger responds with "Oh fantastic. Anything I've heard." From there on out it was much easier conversing. The song "I Want To Break Free" comes on over the loud system. Mind you, I'm really curious about the solo in the song and I'm holding my tongue knowing I'm not supposed to ask. That is until Roger blurts out, what the hell is this doing on the loud system? It was never a hit for us. Boom, open game. Both Jeff and I express how cool of a song it is and I got in the question "Is that Brian on guitar or is that someone mimicking Brian on a synth for the solo?" Roger chuckles and proceeds to tell Jeff and I the inner workings of how and what Queen did when recording. I've written a book about my musical life and the story about this dinner, the song and what Roger told us is in it. You'll have to wait to find out what he told us.
I Want To Break Free
I want to break free
I want to break free
I want to break free from your lies
You're so self satisfied I don't need you
I've got to break free
God knows, God knows I want to break free.
I've fallen in love
I've fallen in love for the first time
And this time I know it's for real
I've fallen in love, yeah
God knows, God knows I've fallen in love.
It's strange but it's true
I can't get over the way you love me like you do
But I have to be sure
When I walk out that door
Oh how I want to be free, baby
Oh how I want to be free,
Oh how I want to break free.
But life still goes on
I can't get used to, living without, living without,
Living without you by my side
I don't want to live alone, hey
God knows, got to make it on my own
So baby can't you see
I've got to break free.
I've got to break free
I want to break free, yeah
I want, I want, I want, I want to break free.
Read More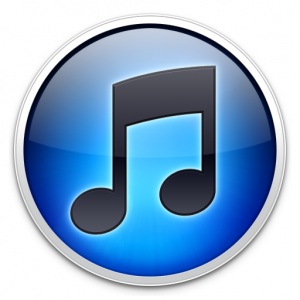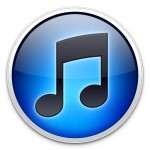 Below is a video where I explain how I became the first non-signed artist on iTunes through CD Baby.
Transcript of what I said in the video:
This is the really condensed version of how I became the first non-signed artist on iTunes.
Derek Sivers started a little company called CD Baby a bunch of years ago in order to help independent musicians sell their music on the web. I didn't want him to sell my music when he first contacted me. So he actually hounded me for four months before I finally relented and started selling CDs on his website.
CD Baby was originally more of a Windows, Linux, kind of a platform and I've always been an Apple guy. Any time there was an issue with the website I would contact Derek and have him try to fix it, so that it would work for Apple customers.
Over the course of a few years Derek and I got to be really good friends. One day a few years ago I was driving down to the NAMM show in LA and Derek called me while I was driving in my car. He calls up and he says "Guess where I am?" And I throw out a couple of random answers and Derek is like "No. It's not there. No, it's not there." And eventually he tells me that it's Cupertino and he's about to meet Steve Jobs at Apple.
So I'm like "Fuck You." (laughter). Because I've always wanted to meet Steve and unfortunately as we now know, Steve is no longer around. And the reason he was up there is because Apple wanted to bring in the CD Baby catalog to the iTunes catalog. So that they could pump up their numbers and make them sound really big. Because everyone wanted to have a million tracks and nobody had it with all the major label songs.
A couple of months later Derek calls me up again and he says "Are you in front of your computer?" And I say "Yes I am." I type in the URL that he gives me and low and behold it is a little special place on CD Baby to find out how you can fill out all of your information to send your music to iTunes. I filled out the information. I hit send and Derek calls me back and says "Congratulations. You are the very first person in the database going to iTunes!" And I'm like yeah. Actually I didn't actually do that, but it felt like I needed to say that just now.
The next step was to wait around until the music actually got uploaded to iTunes. Unfortunately Apple was dragging their feet and Derek was having problems with a guy by the name of Moses Avalon, who was creating all kinds of trouble.
Couple of months later, Derek calls me up again and he says "I'm thinking I want to dump the whole digital distribution thing. Because all I ever wanted to do was sell CDs." And I'm like, "Derek, you don't want to do that dude. Digital distribution is the future."
The decision was made to stick with the digital distribution. Derek decided that it would be a wise idea to return everybody's money. In the end, what ended up happening was, Derek returned everybody's money and people still got to go to iTunes through CD Baby. And I ended up being the very first person in the database to go to iTunes.
And that is how you are now able to get on iTunes. Thanks to a guy like me.
Read More