2020 got off to a start of injuries.
Over the holidays I had a bizarre fall coming home from skiing. The driveway is a little sloped and I took a slightly wrong step, one leg shot out and I landed on top of my other leg. As I was going down I was thinking, please don't break, please don't break. Funny what we can process in the span of a split second. I could feel my bones in my lower leg start to twist. Then it was over. Maybe another millimeter and I might be in a cast right now. Instead I had a major sprain in my ankle and knee.
6 weeks later and I'm still having moments of noticing tender movements of my ankle. Thus it's not 100% healed yet, but getting close.
Musically I've been working on finishing a multitude of projects for artists I'm producing to music I'm doing for me.
First thing that got finished was a single for a female artist out of Utah. That was a long time coming. Happy to have it done and when the artist finally gives me a release date, I'll make note of it here.
Another project I've been working on is MūSE PC, a songwriter's collective where I'm helping other songwriters to improve their songwriting chops. One fun project we've started is a group writing / recording project for a single song based on lyrics that everyone involved will get credit for.
I have multiple singles that have various states of finish. By that I mean I have a spreadsheet of things that each song needs to have completed before I can schedule a date to release it. I have 2 that are completely in the can and done. However I'm looking to have at least 6 done and in the can before I start my release schedule. Lots of them need music videos. Which is where I need to work more on brainstorming ideas for them. Some still need lyric videos, and while I had been working on a lot of them I've hit a wall on one where my idea might be a tad more complicated than its execution is realistic. Thus I need to reassess if I should change it out. In the mean time you can get down with this fantastic song.
I finally got asked to submit a composer's reel for an upcoming film project. First time I've ever been asked to do so. So I had to spend some time hunting down all the projects I've done music for to be edited together into a cohesive unit for the project. While doing this task, I started to realize how many projects I've done and never got the final product sent to me. I guess I'm usually so busy moving on to the next thing that it was weird to go back and look at what I've done in the past.
Now that I've got some of these things done, I can get back to finishing the steps for these singles. Though I'm guessing that right now it won't be until May before I start getting more music videos finished.
Read More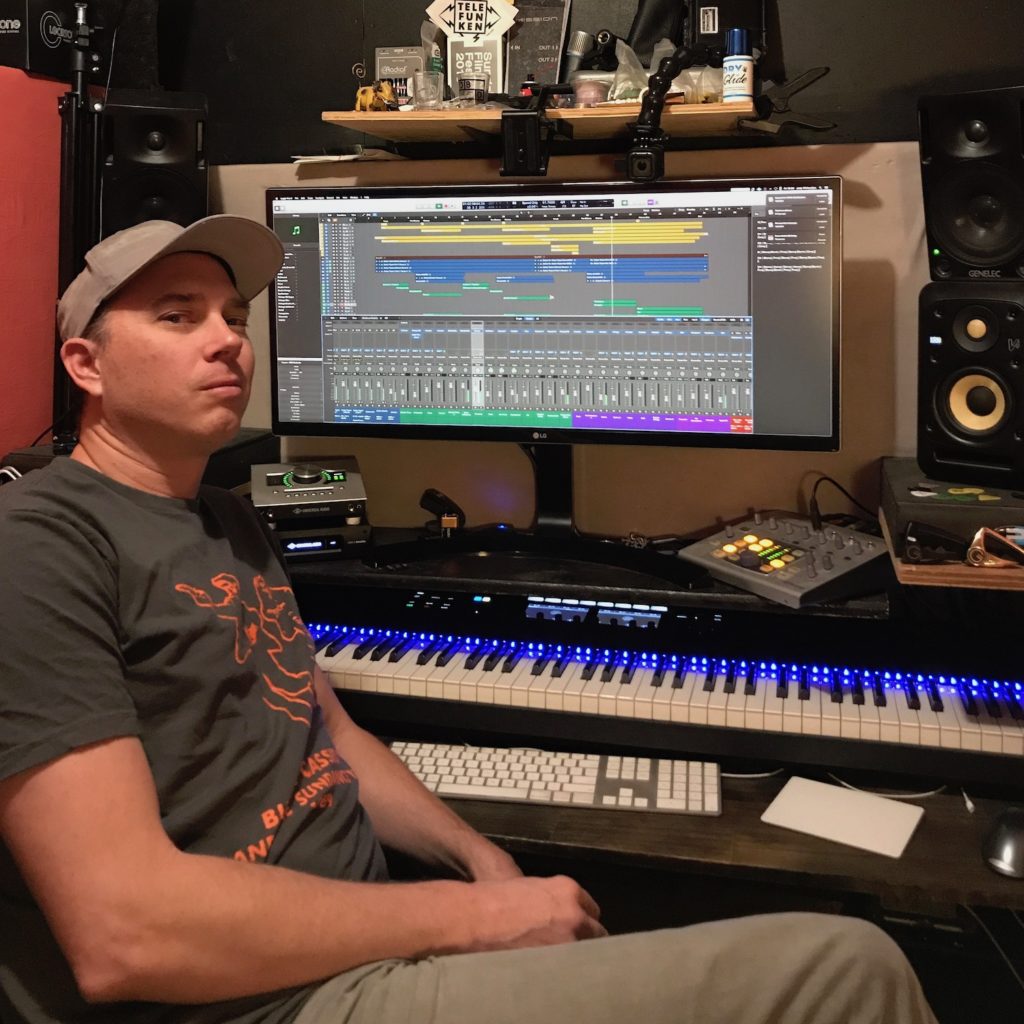 Hello 2020
We've made it thru 2019 and we're still here. That's a great thing, all things considered. First off – Happy New Year. I hope you had a fantastic trip thru your holiday festivities. As for me, I had a great time hanging with family for the Christmas thru New Years holidays.
What does a musician do over the holidays? For this time of year I would normally be skiing most mornings (for exercise sake), though this past holiday season that didn't happen. The reason? Your friendly neighborhood musician nearly broke his leg walking in his driveway. I was coming home from skiing where I was about to enter the house when I slipped and fell. In the short span of the fall I was thinking to myself as I was going down, ow, this hurts. Oh shit, I can feel my bones in my lower leg starting to twist. Please don't snap, please don't snap. Fuck that hurt as I was picking myself up.
Somehow my right leg folded under me and twisted sideways. The end result? A really gnarly sprain for my ankle, which was in a ski boot at the time and my knee. Almost two weeks later, lots of icing plus a couple of days in a device my sister had and my ankle is almost back to normal. I did attempt to get out for some runs last week as I was already walking without a limp, but that proved to be a short-lived 2 runs before I opted to nix that. At that time my leg was feeling unstable and the pressure on my ankle still hurt. Tomorrow I will find out if my ankle and leg feel better as I plan on attempting to ski again. Fingers crossed that my leg won't feel unstable.
Music Backup
Another thing I tend to do at the end of the year is make sure all projects from the year are properly backed up. This year was no exception. No exception with a twist. This time around I ended up consolidating CD and DVD backups to much larger Blu Ray discs. The process actually took a few days of organizing to get completely finished, but now I feel so much better with less overall discs in the library of data – I think I reduced about 300 discs to about 110. Not a bad reduction.
Music Production
The song I was working on for an artist that I was producing has been finished! The long road of a song called Divine Intervention has come to a production end. She has approved the mix and master. She'll be picking up her finished project likely this week and releasing it to the world in 2020.
Music Of Moi
I'm mid production on several songs. Right now, today, as of this post being penned, I'm starting the mix of a track that I wrote some time ago but started tracking a full-on production version back in December. That's the NOW of this post.
Videos
Mid production of two lyric videos. I believe I will get them both finished later this week. On the business side of it I'm still working on distribution with VEVO. I've run afoul of my previous distributor due to their requirement to control collecting royalties for ContentID. The problem is I have a deal with YouTube for publishing and that means I'm not willing to give a middleman money I'm collecting directly. Thus my music videos and lyric videos are stacking up awaiting release until I have a direct deal with VEVO in place.
2020 Plan
There's quite a few things on the horizon. The policy I'm sticking to right now is, only discuss that which I'm finishing or have just finished. This means that in 2020 I will be increasing my output of posts here. I'm guessing my posts will start happening weekly. I already know that there will be multiple updates for January – but without letting the cat out of the bag right now.
Have a fantastic day, awesome week and enjoy life.
Read More