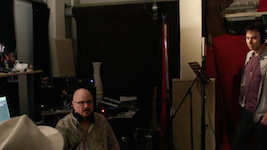 We all like to talk shop in the studio, especially if it involves name players. Talking about amazing musicians we've had the pleasure or displeasure of working with, playing with, or meeting. Come on inside Utopia Parkway as George Leger III, Jesse Stern and I talk about some people we've met. Ok, mostly George talking about some amazing players. But still step inside, walk this way, you and me…
It starts with talking about Barry Manilow's guitarist knowing about guitar playing from over 100 years ago and then progresses into the more modern instrument of electric bass. It then quickly swings into a little chat about a very famous female bassist (big name players type) that both George and I have met, but Jesse had not.
Big Name Players In The Studio
Transcript:
Because the song was done in the 1800's.
He wanted to play it, like they played guitar in the 1800's. He knew enough about the history of music and guitar playing, to know what kind of chords they would have played. How they would have played the part. I was like. I talked to him after. I asked him, you know that stuff?
Yeah, I have to know that stuff.
How do you know.
Research.
I mean, do you?!?
Some. Yeah, I studied, I studied guitar for many years.
But I mean like…
And and classical and and history for different parts of the world.
That's where I started too. So I could technically say the same thing, but I don't go around spitting that kind of information out.
Well and I also…
He, but he, I mean this guy, I mean I couldn't believe what he's played. How complex it was and there's no little fret "icks" or nothing. I mean the guy is just like a fucking machine, what he was playing was unbelievable.
The history of bass, of electric bass is a lot shorter.
Yeah.
Than history of guitars. So.
But boy is it ever cool.
The first guy that I studied, like that I really studied not just learning the notes, but learning how the notes were played and how the tone came and all that stuff was Roger Waters.
Oh, well there you go.
And so, and then, you know from there I kinda learned, I kinda went back.
Do you know who I met and talked to for about a half hour?
Ah.
Carol Kaye.
Oh really?
Yeah, at NAMM two or three years ago. She was sitting there all by herself.
Was she nice.
But was she nice?!?
She was awesome.
You know why we both ask that question?
Why?
Because she's not known to be nice. She's known to be very very mean.
Really?!?
She has a reputation for being very very bitter and having a chip on her shoulder.
Yeah.
Not with me. She was so cool.
I'm glad to hear that.
We talked about making records an' shit and everything.
She's a, I mean, obviously a phenomenal.
And I have pictures of her and me, from the NAMM show. She was so… Really?!? She's like that?
Yeah.
Oh yeah yeah.
That's what people say. I've never met her.
I've met her.
She wasn't like that with me man. She was just like, be just like I'm talking to you. So tell me ya know, I know you played with so and so, can you tell me what was it like when you guys first started playing. I mean you're a girl, you were playing. You know and she was like, yeah, you know I was there sometimes, just taking care of my family is really what I was doing. You know and I was really grateful to be doing that stuff. But yeah she was just like yeah I'd show up in a dresses and sessions and stuff like that and people would look at me and then I'd play my instrument and then they would look at me totally different.
Well, it could…
She was just such a sweetheart.
Well, it could very well be that maybe she's mellowing a little bit now. Because when I met her…
It could also be me. Cause I'm pretty respectful of people like that. And I'm also really, respectful of their experience.