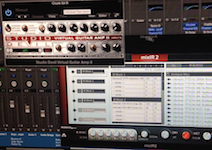 A late night discussion last night with my co-producer led to a statement of more guitars! That is what is being called for in the final stages of American Mayhem production. As a guitar player I don't really have a problem with recording more guitars. It's what I do. Earlier today I thought I'd bring you in on part of my little journey of laying down more guitars. Layers baby. Layers.
Watch as I screw up. Ha ha ha.
Ah the life of a professional musician. Sometimes it takes more than one take. Or even more than one guitar. The true awesomeness is when it all comes together and sounds spectacular.
More Guitars
Enjoy the journey, can't wait for you to hear the final product when it comes time to get it out to your ears.
It's epic.
That's an understatement.
Stay tuned for more.