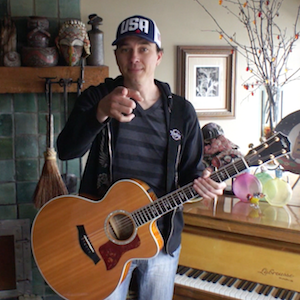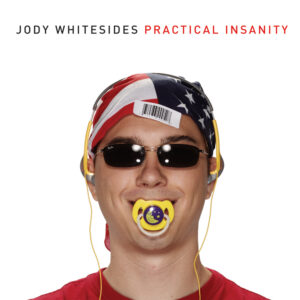 Ah Falling In. This is one of those songs where I constantly get asked to play it. Especially for the girls. Must be something about the acoustic guitar and a guy singing at them that causes them to swoon. Aw who the hell am I kidding. It's the fact the song is about what every girl or woman on this planet wants. That is, to fall in love. At least all the ones I've met. I decided to essentially throw down a live acoustic performance of the song then put up the lyrics on it. What better way to enjoy and 'read' the song at the same time. For those out there who's wondered – how the hell is he playing that song?!? Wonder no more. It's pretty plain as day to see what it is that I'm doing guitar wise on the song.
Yes, that's slap 'n' pop on an acoustic guitar. It all came down from a dare from someone who felt slap 'n' pop couldn't be effective for playing a guitar. I took that challenge and Falling In was the result. Another tidbit about the song is that major songwriters whom I've shared the stage with have always been amazed by the guitar line and how it works with the melody. One of the funniest comments from a star writer was "You're a victim of your own coolness with that song." It's definitely one that people always comment on. In fact, I ask you to comment on it too.
Falling In
In the speechless hush of the 5 a.m.
She'll spy upon what my sleeping brings in
And if the coffee burns before we see again
The she'd never learn how my feelings creep in
I better grab her with both arms
And hold on tight 'cause shes's
Falling in to trouble
Falling in to my life
Falling in to fables
Falling in and it feels so right
In a crowd of thoughts I can wonder how
I'll ever figure out what may be in her head
And if the world should end before we meet again
Then I'll never know what two lovers can hold
She better grab me with both arms
And hold on tight 'cause I'm
Falling in to trouble
Falling in to her life
Falling in to fables
Falling in and it feels so right
Through the course of the day
I think of things to say
And then they fade away
In the course of a fight
I feel things aren't right
Then it goes all night
We're falling in to trouble
Falling in to our lives
Falling in to fables
Falling in and it feels so right
Hit me up with your rendition of my tune. Especially want to see all the budding guitarists out there playing along!
Read More
It's that time of year when the lovebirds are out and people start sending little Valentines to the ones who have their heart. What's better than knowing you're giving of yourself and letting someone else know how you feel about them? Not much. Except maybe for winning the lottery. In this case I have an offer for you and it's all in the the name of love. Aw.
Right now when you click on this music player below, you get a chance to be serenaded by me for my song "Falling In". In the immortal words of other people:
"That song is so cool. Not only to listen to, but also to watch you play." – W.S.
"You're a victim of your own coolness with 'Falling In'." – M.B.
"The coolest love song ever that doesn't flat out say the word love." – G.L.III
Here's the even better part to this deal. Right now, for a very a limited time, when you "Share" this song via the player. You can get this song for free! That's right, you read that correctly. I will give you the song for free. All you need to do is click on the download button and "Share" it. You'll be taken on a magical internet ride to a special place to get "Falling In" for free. All in the name of love.
Hurry though, because this offer ends when Valentines Day ends.
Share it
Who says a rockstar doesn't love you?
Enjoy!
– Jody
Read More