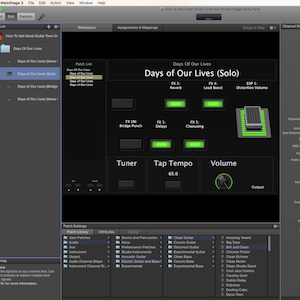 Here's the 3rd installment of videos around getting great guitar tones from a computer using MainStage. This video showcases how to split up guitar sounds into multiple patches to switch between within songs.
MainStage Song Parts For Multiple Guitar Sounds
The reason behind setting them up this way is simple – it's the best way to control the system for the Tuning function, as well as for making patch changes function via a single button press. Because we all love simplicity when playing live.
Read More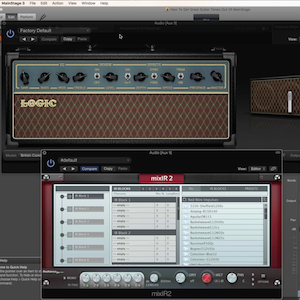 Part two in my getting great guitar tones in MainStage talks about creating multi amp setups. Imagine if you could take the amplifier rigs of people like The Edge, Joe Bonamassa, Aerosmith, Joe Satriani, and reduce them down to a single laptop with a midi foot controller. You can. Watch and find out how.
Multi Amp Setup
This is scratching the surface of what this software is capable of doing. See me live and join the revolution in guitar tone by utilizing multi amp setups to achieve big sounds.
Read More