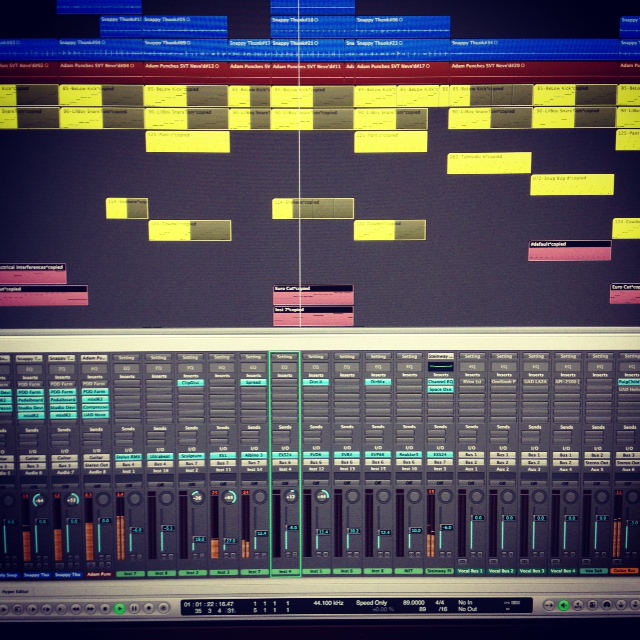 With some steps forward, there are some steps backwards. Such was the case this past week. Despite the setback, I'm happy to relay that the seventh song finalized is "Love Takes A Holiday".
Yes, I had managed to spend a little time away from my release to work on a film trailer track in a dubstep style. I mentioned in the last post that initial reaction was awesome. Even the client finally got back to me stating I nailed it. That's enough to put a smile on the face. Still awaiting word from the studio…
LTAH – for short, required a fairly good amount of thought. The original demo was a little on the dragging it's feet side. That doesn't stop it from being a really good song, but it did stop it from being a great song, or even a possible hit. Thus I reworked it with a faster tempo. This gives it a livelier vibe that bounces a little more – without taking out the nature of stomp it has. I also reworked the lyrics, shifted the verses around and gave it a more focused perspective.
In the re-recording of the track, I reconfigured some of the guitar parts and added more elements to it. One of my favorite new bits is a "talking bass" sound that I picked up from doing the dubstep track. I think it's going to add some cool character to compliment the Clavinet I have in it.
You're probably wondering, what the hell was the setback? Well… I have a really nice microphone that I've been using to record the demo vocals with. It decided that right now, or rather last Tuesday, was the perfect time to crap out and stop working. That's rather unfortunate for such a pricey mic to do. Good thing I'm on good terms with the company. They're going to give it a checkup and get it back to good health. In the meantime, I'm picking on songs that I need to tweak with more than just vocals – gives me time to really think through the arrangements. That's always a good thing.
Even LTAH got a slight change in the arrangement of things too. Added some cool stops to two parts and also gave the intro riff and reprise. Keeps the song from motoring too fast through the parts now that the tempo has made a pretty good jump. These changes signal that the seventh song finalized is "Love Takes A Holiday". Stay tuned. I've got another 11 more to tweak before studio performances and perfection are up to bat.
Read More