Organic Homemade Pizza
Besides being known for music, I'm also considered amongst friends to be a foodie. Mostly because I cook awesome meals. One of my favorite things to make is pizza. Could be because I worked a bunch of years in a semi-famous pizza joint while growing up. Nowadays I'm prone to making organic homemade pizza before I call for delivery.
In the video below, I show a method to making of my infamous organic homemade pizza.  Plus I share a song called Clouds by Zach Sobiech.
Zach Sobiech Clouds
If you're not aware, Zach is a young man who was diagnosed with a type of cancer. Sure a lot of people are having issues with cancer these days, however Zach has written a touching song about it called Clouds. The song gained a bit of notoriety online and went viral. His friends contacted other famous people and put together a touching video for Zach and that's what prompted me to spend a little time learning the song.
If you're coming here from YouTube looking for the recipe for the dough and the sauce, you're in luck, it's here: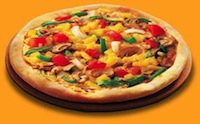 Dough:
1 ⅓ cups of warm water
2 tblsp organic sugar
2 ¼ tsp of organic yeast
1 ¼ tsp of Real Salt (by Redmond)
2 tblsp olive oil
3 ½ cups of organic flour
Watch the video for the directions on it.
Sauce:
1 – 6 ounce can of organic tomato paste
6 ounces of filter water
2 ½ tsp of organic sugar
1 ½ tsp of Real Salt
2 to 3 cloves of fresh crushed garlic
add some fresh dried thyme, basil, and oregano
Watch the video for blending it.
That's all there is to it. Pick your own toppings and above all else, don't forget to use a pizza stone in your oven! Enjoy the organic homemade pizza and the song Clouds re-imagined by myself and Dave originally by Zach Sobiech.
– Jody