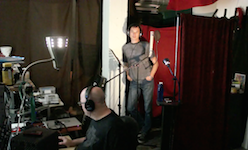 Nothing is more annoying than a noisy mouse in the headphones. Recently in the studio while getting ready to start knocking out vocals for American Mayhem and we had an issue with a hum type of noise going on in the headphones. This makes for unpleasant recording. Not to mention that it also can be an issue if it's being recorded on to the track in question. Adding noise from an unknown source isn't always a great idea.
Find out what was causing the noise to occur. A kind of noise that flares up when the mouse is being moved. Nothing like a bad noisy mouse, however, that was a result of the issue, not a root for the cure. We did find it!
Noisy Mouse In The Headphones
Transcript:
What are we up for George? What are we looking at?
I just hear some weird hum.
Very briefly.
Yeah, it came and then it kinda went.
I can kinda hear your mouse moving.
Yeah well…
Mouse noise is what I'm saying. Not like the actual physical noise. I'm hearing in the system.
Somethings tweaked in the system.
That seems a bit quieter.
Yeah, well the transformer was on the audio cable.
Sittin right on the cable? Yeah, that's bad. Studio badness. Do not put your audio cables right on a transformer.
Oh yeah. Much better.
Much better.
Ok. We'll be recording now. Shhhh.
Red light 's going on.
No squeaky chairs. No nothing.