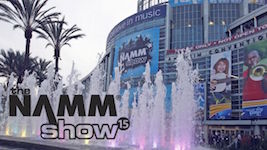 Having escaped NAMMthrax I'm going to recount some of the fun I had at NAMM 2015.
NAMM
I'm a fan of NAMM. Its a bit like experiencing Guitar Center if it were on Steroids. A lot of steroids. The main reason I go is to see all the fun new gear. Usually I'll go for 3 days, on occasion I'll go all 4. This year I only took it in in 2 days. Partially due to scheduling and partially due to seeing if I could fit everyone in that I needed to in 2 days. Hindsight says it was too short a time for how much I had to see and do.
For the cool new thing, this year I think hands down it's gotta go to Omnisphere 2 by Spectrasonics. I already use Omnisphere, so this is a very cool update. Looking forward to when it drops.
My surreal experience of NAMM occurred on Saturday. I was walking along when I hear "Hey Jody, do you want a pen?" I turn to look and its Dave Pensado offering me a pen while standing outside the Izotope booth. For the non music world, Dave Pensado is a premier top level mixing engineer who has mixed some of the massive hits you've heard on radio. The shocking thing was how tall he is. For some reason I always pictured him to be like 5'9″, but he's easily about 6'2″. Nearly as tall as me. We chatted briefly and then he did a presentation for the amazing new Izotope plugins Ozone 6, Alloy 2, Trash and more. Super nice and friendly guy.
The other great thing about NAMM is seeing certain people that for some reason I don't run into other than at NAMM. Great time to catch up on what other fellow musicians are creating!
I did happen to see a purple microphone by Sennheiser that matched the purple shoes that I've got. Check that featured image for this post where I'm posing with the microphone. Think I need to color coordinate my mic and shoes?
I also helped to create a slogan for one of my endorsers. It'll be interesting if Studio Devil starts using "Studio Devil, putting amps into storage for years."
Stay tuned, more musical stuff is coming.