The big music story this week was Billie Eilish being interviewed on the Jimmy Kimmel show. During said show she was asked about Van Halen. To which she responded with knowing who they are. For some reason this set some people off who got really upset about it. It's as if she's a Bad "Girl" (yes, a pun on the title of her most popular hit).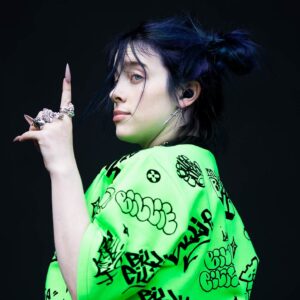 I'm kinda confused as to why a 17 year old girl would be required to know who the fuck Van Halen is. One reason I don't understand why people are upset has to do with the fact that Van Halen hasn't been relevant for at least 15 years. Thus what 2 year old would have any clue what was popular in music at that point in life.
I would put it out there that there are a lot of people who are huge Van Halen fans that don't know who the fuck Billie Eilish is, or even who maybe the New York Dolls. Just because she's a famous musician now, doesn't mean she has to know who every single artist is that came before her. That's an unreasonable request.
The great thing is Wolfgang came to her defense. Which is ironic since he's Eddie's kid and often times now plays bass for the band. Yes, Van Halen had a big career for a good long time – but that time has pretty much past. Music has changed, some people move with it, some don't.
Billie is definitely doing things a bit different and that's what's likely driving her popularity. She and her bother have hit the zeitgeist and that's something many musicians attempt to have happen in their career and it's rare at best. I certainly hope she is able to stay relevant for at least 4 album releases or more. The hard part about that is that the industry is bigger and there's more artists doing so many things now that it may not be likely.
I think it would be really interesting to hear her now tackle a cover of a Van Halen song. I doubt she'd do it though. Stranger things have happened.
As you might be able to tell, I don't care if she doesn't know who Van Halen is. Though, I'm a little bummed she has no idea who I am 😎.